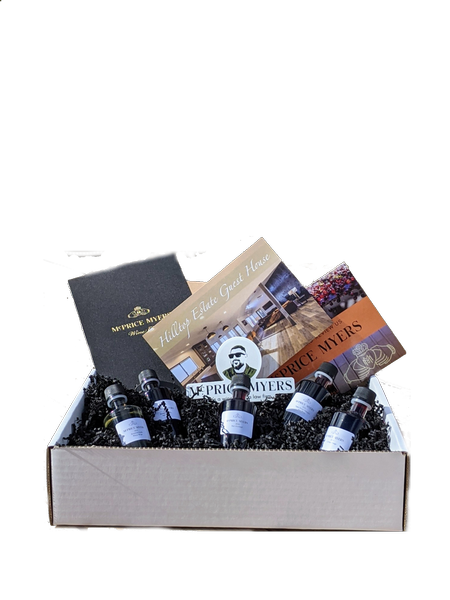 New Releases Taste at Home Kit
The New Releases Taste at Home Kit contains five mini bottles to taste from the comfort of your own home and get to know your new McPrice Myers wines! Club members receive their discount on this kit. Each kit includes one mini bottle of:
2020 Beautiful Earth Rosé
2018 Sel de la Terre
2019 "The Brightest Star" Paper Street Zinfandel
2019 Altas Viñas
2018 Estate Red Wine
plus Tasting Notes for each wine
Schedule a complimentary virtual tasting and we'll walk you through these wines! Get your friends to join in and have a Zoom party! We are available for virtual tastings Monday-Thursday 11-4 PST.
Guests who place at least a $75 wine purchase within two weeks of receiving the Taste at Home Kit will receive a credit on their order for the kit purchase, less $5 (please reach out to us to place your order). $5 from the purchase of every kit goes to your wine educator or our winery team as gratuity. Your club shipment does not qualify as the crediting purchase.
This is meant to be consumed within ~1 week of shipment and is enough for one person - or two people who like to share. Tax and shipping for the kit will be calculated in the shopping cart. Members must log in to your account to be able to add this kit to your cart.