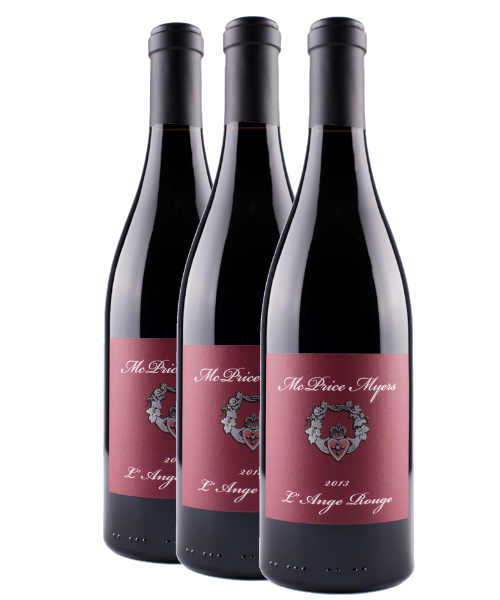 L'Ange Rouge Library Vertical
For the month of January, we are offering a library vertical of L'Ange Rouge. Receive one bottle each of 2010, 2012, and 2013 vintages. Guests get 10% off, club members get 30% off, and everyone gets free ground shipping for this vertical, reflected in your shopping cart.
For the wine geeks out there, Mac and Adrian will be doing a deep-dive into these wines via Zoom. Pick up this vertical to enjoy on your own, or join us in a few weeks to taste through them together:
February 3 at 4 pm PST
Click the link above to join the Zoom meeting on February 3rd
L'Ange Rouge, meaning "The Red Angel," is dedicated to Mac's grandmother who fittingly had a full head of red hair. This blend is meant to showcase the femininity of Grenache. Alta Mesa Grenache, blended with Grenache from Larner Vineyard showcases the depth of this varietal. Mourvèdre from Alta Mesa provides the balance.
2010 L'Ange Rouge
90% Grenache, 5% Syrah, 5% Mourvedre
The components of Grenache, Syrah, and Mourvedre were fermented in small open-top bins, with 40% whole clusters included. The wine spent 20-25 days on the skins with a combination of pump-overs and punch downs. Aged 15 months in 500 liter French Oak puncheons, bottled unfined and unfiltered.
Tasting Notes
Pine tar, deep raspberry, red currant, rosemary, rose hips, cola, beef blood, mint, coffee, sugar beet, roast beef. Palate is red fruit and black spice, herbs, long finish, pure raspberry/cola, excellent structure.
91+ points, Robert Parker
91 points, Vinous
2012 L'Ange Rouge
84% Grenache, 12% Syrah, 4% Mourvedre
The components of Grenache, Syrah, and Mourvedre were fermented in small open-top bins, with 60% whole clusters included. The wine spent 15-20 days on the skins with a combination of pump-overs and punch downs. Aged 16 months in 500-liter puncheons. 16 months in French Oak 20% new.
Tasting Notes
Cherry cola, hibiscus, fresh raspberries, cherries, cranberry chutney, tobacco, chocolate, potpourri, oolong tea, licorice, fennel frond, concentrated aromatics, lush, silky, long finish.
94 points, Robert Parker
2013 L'Ange Rouge
80% Grenache, 10% Syrah, 10% Mourvedre
The components of Grenache, Syrah, and Mourvedre were fermented in small open-top bins, with 60% whole clusters included. The wine spent 15-20 days on the skins with a combination of pump-overs and punch downs. Aged 16 months in 500-liter puncheons. 16 months in French Oak 20% new.
Tasting Notes
Dark chocolate, mint, plum, rosemary, black raspberry, white pepper, mineral, polished tannins, finishing bright, and light on its feet.
92 points, Vinous
91 points, Robert Parker
90 points, Wine Spectator